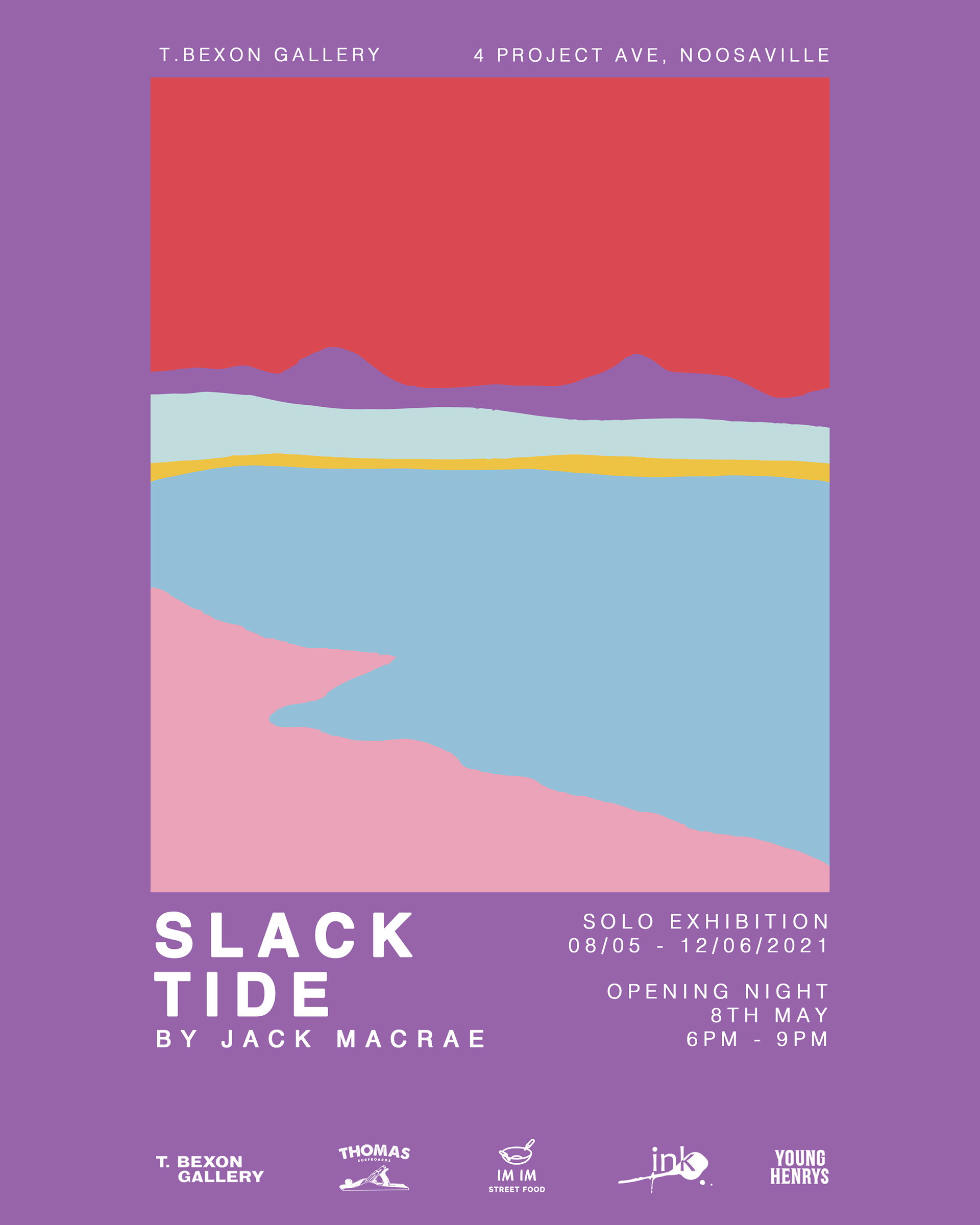 Congratulations on your recent solo exhibition 'Slack Tide'. Could you share with us your first memory of artmaking?
Studying architecture and working in an office, I have always had to draw, sketch and cut things out. It wasn't until a few years ago I started collaging. At the time I had just written a literature review on Peter Eisenman's architectural theory on autonomy in Architecture. And these ideas of process just took over and started applying them to collaging. So not too long ago at all.
'Slack Tide' consists of paintings that explore the natural landscape of the Sunshine Coast. Tell us about the influence this area has had on yourself and your work.
I have grown up spending most of my holidays on the Sunshine coast, however recently moving there had given me the chance to explore it a bit more. Especially the surrounding hinterlands.  I do also really love surfing in the National Park. It is pretty special…
In a world slowly behind dominated by technology, where screen time is rising by the day, there isn't much exploration into nature as one would hope. Or maybe it's a different story in Queensland, where nature is in abundance – unlike cities like Melbourne and Sydney. In these artworks, you've shown nature to be untouched by human hands. There are no signs, telephone wires, etc, only the pure form and shape of the landscape, like in Big Bend 2, Carnarvon Gorge and Mt Coolum. Tell us a little about your process.
Sadly, I still rack up a considerable amount of screen time. There is nothing better through than escaping - going for a hike, camping or just exploring more. This is really where it all starts.
In some of my Gold Coast landscapes, it is very effected by human hands. Which I don't mind, I am super interested in buildings - if done tastefully. And more so a fan of Brutalism. It is probably where I get some of my love for hard lines. Then I move onto hand drawing out the scene and then either collaging it or painting it. The hardest part is deciding on what colours to use, and how to use them. I think it is an ever evolving, everlasting theory which I won't get to the end of.
The compositions of some artworks, like Tea Tree, Granite, and Sunshine Corner, has the viewer looking out into the bay as it curves. What is it about this natural landscape that had you repeating it?
It just seems that lots of the headlands (especially in Noosa) all look downward and outward.
But I do like the way the sky, water, and land are infinite bodies that make up most of the compositions. It is just the shape of the headland (or landscape) that delineates it. At the end of the day we all have an attachment to place and attachment to colour.